Viridian Reactor 5 Green Laser Sight For Smith & Wesson Shield
Availability: In Stock
Only 2 left
Product Code:VIR-LASER-R5-SHIELD
Quick Overview
Reactor 5 Green Laser Sight for Smith & Wesson Shield
With ECR Technology
Includes Free Outside The Waistband Holster
It's the ultimate targeting system for your Smith & Wesson SHIELD. All-conditions visible Viridian Green™ laser sighting, custom-fit to your weapon. Includes a sleek Instant-On™ ECR™ holster that activates the world's brightest laser when drawn. No fumbling with buttons in critical situations. When you draw, it's on.™
Compatible with the G2 Urban Carry- Laser Concealed Carry Holster complete with ECR Automated Technology.

Designed and Built in the United States
Details
Reactor 5 Green Laser Sight for Smith & Wesson Shield
With ECR Technology
Includes Free Outside The Waistband Holster
It's the ultimate targeting system for your Smith & Wesson SHIELD. All-conditions visible Viridian Green™ laser sighting, custom-fit to your weapon. Includes a sleek Instant-On™ ECR™ holster that activates the world's brightest laser when drawn. No fumbling with buttons in critical situations. When you draw, it's on.™
Compatible with the G2 Urban Carry- Laser Concealed Carry Holster complete with ECR Automated Technology.
The Green Light Advantage
Ordinary red lasers can be difficult to see in most daylight conditions. The benefit of a green laser is that it is much more visible, allowing for it to be used anytime, day or night, indoors or outdoors, permitting you to track your target quicker and more accurately. Additionally, because green lasers are so much more visible to the human eye, you can actually see a very intimidating visible beam in low-light conditions. Green is closer to the center of the visible spectrum, so it's easier for our eyes to perceive the color vs. a red laser. In fact, a green laser can appear as much as 50 times brighter than the red equivalent.
SMARTLASER™ TECHNOLOGY
Viridian Green Lasers are the only laser sights available equipped with SMARTLASER Technology. SMARTLASER Technology was developed in conjunction with local Special Weapons and Tactics (SWAT) teams to offer the most versatility and functionality ever before seen in a laser sight.
This Technology Features:
√ Four separate, unique modes of operation

The tactical teams wanted it... Now you can have it... Separate modes allow for individual laser recognition in tactical team situations. The 4 modes consist of 1 constant beam mode and 3 pulsing modes. You can always easily change modes while your laser is on so that you can quickly and effortlessly select a unique aiming point. Your green laser sight will remember your mode selection for your next use.
The four laser modes are:
Constant (Constant Beam)
Low Speed Pulse (5 Pulses per second)
Medium Speed Pulse (7 Pulses per second)
High Speed Pulse (10 Pulses per second)
Constant beam mode will always give you the maximum visibility; however, using one of the three pulsing modes will maximize battery life. Battery life will increase from approximately 4+ hours to 7+ hours in the pulsing modes.
√ Automatic power shut down

In the event the Laser is accidentally left on, it will shut down in approximately 10 minutes after a brief warning period. If you wish to keep the power on, simply press either button. This will reset the power down timer.
√ Low-Battery indicator

Once battery power reaches a low level, the Laser will blink once approximately every 10 seconds. The low battery indicator can be affected by temperature extremes or by using a battery other than those recommended by the manufacturer.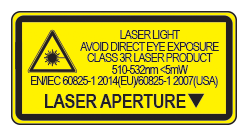 Technical Specifications
WEIGHT: .78 oz. (including batteries) Virtually weightless
CONSTRUCTION: High strength thermomolded polymer
LASER INTENSITY: 5mW peak, 532nm Maximum legal power
LASER RANGE: Effective targeting up to 100 yards in daylight 2 miles at night
BATTERY LIFE: 1 hour constant 2 hours pulse
CHARGE DISPLAY: 2-color battery level indicator ready, replace
USER ADJUSTABLE: Easy windage / elevation adjustments on laser
ACTIVATION / MODES: Automatic activation with ECR™/ User-defined operating modes