Concealed Carry Holsters that Truly Conceal
Urban Carry has designed the ultimate line of concealed carry holsters for every day carry in any environment. These concealed carry holsters were specifically designed to comfortably fit with almost any outfit, for any situation, without ever being seen. After testing all of the other concealed carry holsters on the market, the Urban Carry set out to accomplish a number of goals.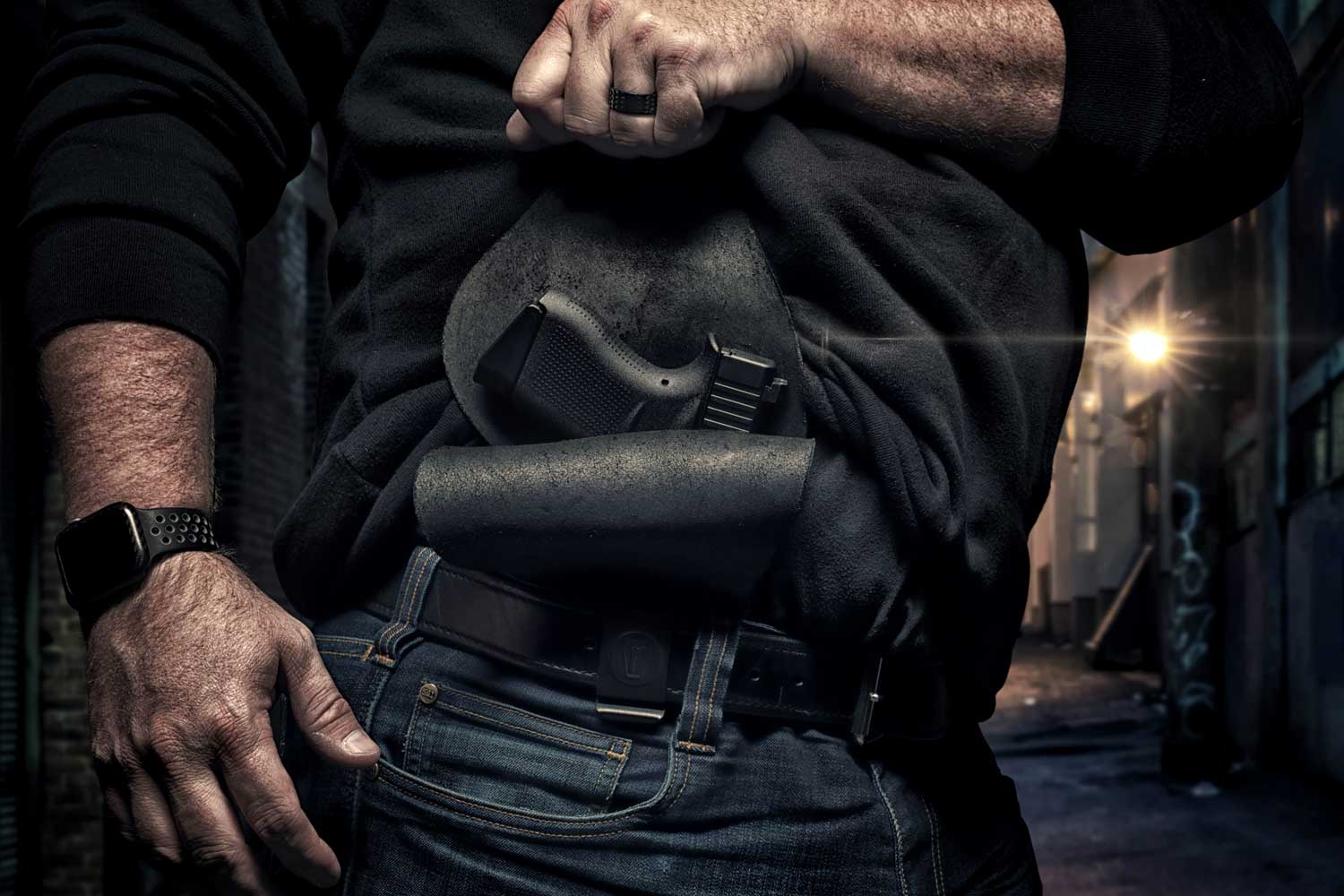 When we were developing the Urban Carry G2 holster, we wanted to minimize and eliminate, if possible, any accidental "flashes" of a firearm. In many states, unknowingly flashing the handle of your firearm can land you a fine by the police. We wanted to avoid that and make a truly concealed carry holster that doesn't show any part of the weapon, so we developed an inside the pants holster the sits below the waistband. What we've come up with is an appendix inside the waistband "pouch" for concealed carry. This patented pocket behind the pocket design allows deep concealment of a firearm, enhancing comfort while reducing common concealed carry issues, such as printing or gun dig. With other concealed carry holsters it wouldn't be possible to access the handgun easily, but with the Urban Carry's "pop-up" design you can quickly draw the weapon on a seconds notice.
Next Urban Carry wanted to make sure there was no printing of the handgun. Printing is when a bystander, or officer, can tell through your pocket or waistline that you are wearing a gun. Again, this can result in a hefty fine from law enforcement depending on concealed carry laws where you live. To prevent this from happening, we first made sure while the weapon was at rest it was completely covered by premium, saddle grade leather. We have five different size for the G2 holster that cover everything from a pocket pistol, like the Bodyguard .380, all the way up to a full size firearm such as the Glock 17. With the right size holster, you're going to get a comfortable concealed carry without any printing.
Security and ease of use were our next goals to tackle. I won't mention which brand it was but when testing one of the other concealed carry holsters I actually had my Walther PPK fall out, twice, and land on the floor while just using it in normal every day use. Suffice it to say I quickly moved on to another sample to test and made sure that firearm retention was a key aspect to focus on. The last thing you want is for your firearm to fall out or for your assailant to have access to it. With your handgun in the Urban Carry, the grip of the pistol is tucked about two inches below the waistline, making it difficult for anyone to get to and nearly impossible to lose or fall out. Not until you open the magnetic flap and firmly pull up does your handgun become exposed.
To top it off we made sure the Urban Carry was comfortable. It's difficult to find any inside waistband holster that's comfortable, since many who carry want to keep their full size .45 caliber 1911 on them at all times. That's perfectly understandable, and we know the only reason you went with a 45 is because they don't make a 46. If that's the case we just recommend that you wear pants about 1 to 1.5" larger than you would normally wear to accommodate carrying a handgun inside. We made sure to use top quality leather, 100% made in America, (even the Cows were raised in Tennessee, you can't find much more American than that), and the leather is very comfortable and breathable. To make sure the Urban Carry was an easy to use concealed carry holster we included premium neodymium magnets in the flap to access the weapon quickly simply by pulling up.